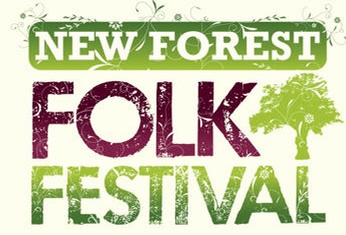 Friday
Saturday
Sunday
Workshops & Singarounds
Wednesday
Thursday
Traders
Childrens Area
Artists information for Sunday
FEAST OF FIDDLES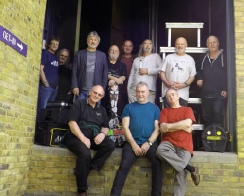 - This band got together in 1994 as a one-off, slightly mad idea dreamt up by Hugh Crabtree. In collaboration with Nettlebed Folk Club organiser Mike Sanderson who was looking to fill an empty date at the club. Hugh 'phoned round some very well known fiddle players to put in front of his ceilidh band. The rest as they say….

Feast of Fiddles has become a national folk-rock institution touring every year around Easter and now in its Jubilee Year. No less than 15 fiddle players have been involved over the years and 11 other musicians. The 1st XI band that undertakes the annual spring tour usually consists of Garry Blakeley, Ian Cutler, Peter Knight, Tom Leary, Chris Leslie and Brian McNeill on fiddles alongside Hugh Crabtree, Dave Harding, Dave Mattacks, Martin Vincent and Alan Whetton. However, festival dates almost always involve Carlton Hunt (Bad Manners) on drums and other fiddle players such as Guy Fletcher, Marion Fleetwood and Sophie Crabtree.

Whoever is involved, it's a big sound which encompasses everything from Glenn Miller to Led Zeppelin, Mark Knopfler to Richard Rodgers, and of course a load of beefed up traditional music along the way. Each fiddle player brings their own unique style but it isn't just a backline accompaniment to fiddle music, it's a big show band of friends enjoying each other's company and music to the full. "No other entertainment like it on the circuit" according to Wimborne's Tivoli Theatre manager Charlie North-Lewis. Be prepared for a huge dynamic range and ready to laugh, dance, sing and maybe even shed a tear. It's all part and parcel of a Feast of Fiddles concert!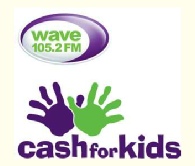 THE GERRY COLVIN BAND
- "Gerry Colvin is a writer of great substance who is able to give us something that has been largely missing in English Music for a long time. His subjects and characters are clearly defined and his songs create strong images and stories which can make us both laugh and cry in the same breath. This man is unique and unforgettable. The songs are brilliant. He should be a household name. Go see him." Phil Beer, Show of Hands
The hardest act to follow since the feeding of the 5,000!' Keith Donnelly
In the 1970's Gerry joined pop band 'The Man Upstairs'. They released three singles and toured with 'The Smiths'.
In the early 1980's he co-founded and fronted the legendary John Peel favourite skiffle-cowpunk indie outfit 'Terry & Gerry'. This seminal band toured Europe and the USA and appeared on countless Radio and TV shows including "The Tube" and "The Old Grey Whistle Test". Their five singles and album all reached No.1 in the indie charts. They wrote numerous theme tunes for Central TV and were the subject of a 30 minute documentary by the legendary film maker Norman Hull, which aired on British Television in July 1986. The quirky portrayal of their unique skiffle music and beloved Birmingham can be viewed here.
http://www.youtube.com/watch?v=ZVC_uGq5bSA
In 2010 Cherry Red released 'Let's Get the Hell Back to Lubbock', the definitive 'Terry and Gerry' compilation
In the early 1990's Gerry worked in Nashville as a professional songwriter and back in the UK collaborated with Alison Moyet, co-writing on an album project. He also penned numerous TV themes, three musicals, two film scores and wrote and presented for BBC Radio 2. His band 'Gerry Colvin's Inexperience', a fusion of Soul, R and B and Folk-Country, became a firm favourite on the College circuit.
In 1993 Gerry formed the folk-pop band 'The Atlantics': they toured extensively including a slot at Glastonbury Festival where Gerry was compere, and appeared on BBC's 'Pebble Mill at One'. Colvin's other major project at this time was film music as vocalist with 'The National Screen Orchestra'; he also performed as a comedy double act with Hollywood superstar Mackenzie Crook.
In 1995 Gerry co-founded the five piece folk band Colvinquarmby. They released six critically acclaimed albums and were voted best band at the prestigious Fairport Convention Cropredy Festival in 2009. In 2010 they won the Hancock Award for 'Best Live Folk Act'. In May 2013 Gerry was invited by New York producer and Robert Plant song collaborator Dave Barratt to record 'Revolution' for the 'Beatles complete on ukulele' album and website.
In 2014 Gerry released a self-penned solo album 'Jazz Tales of Country Folk' followed by 'Six of One half a Dozen of the Other' in 2016 which features ten brand new original songs.
.
In 2015 Gerry reformed 'Terry and Gerry' and was invited to support Status Quo on a nationwide tour. Terry and Gerry also appeared at Glastonbury that year following the release of their new EP 'Dear John'.
As well as his new album Gerry's book 'The Rabbits of Zakynthos' is due to be published later this year.
The Gerry Colvin band were delighted to be invited to apprear at Cropredy Festival 2017 to celebrate 50 years of Fairport Convention!! They received a standing ovation!!
The new CD 'Back and Forth' was launched at Cropredy and is available from
The Gerry Colvin Band are: Gerry Colvin (guitar) Jerome Davies (double Bass) Trish Power (accordion) Michael Keelan (fiddle) and Lyndon Webb (guitar)
CHRIS LESLIE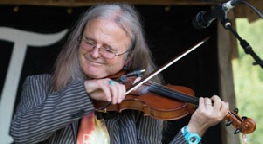 - Chris is a multi instrumentalist and singer-songwriter based in Oxfordshire UK, primarily known for the past seventeen years for his work with Fairport Convention.
He has played and recorded with, amongst others: Steve Ashley, the Albion Band, Jez Lowe, Ian Anderson, Chris While and Julie Matthews, Whippersnapper, Alan Stivell, Feast of Fiddles and St. Agnes Fountain.

Chris has provided music for a number of Radio Four plays and classic serials. His fiddle playing has also been heard on the TV series Heartbeat, Midsommer Murders and Billy Connolly's World Tour of Scotland.
Chris plays: fiddle, mandolin, tenor guitar, bouzouki, ukulele, banjo, oud, whistle and Native American flute.
TENDERLORE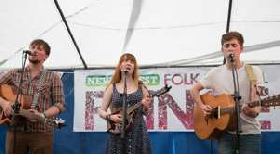 - are Hayley McDonnell, Olly Lewis and Rob Kitney, an alternative folk trio of three individual songwriting voices working seamlessly together. Their melodic approach to folk music is centred around their intricate three-part vocal harmonies, accompanied by a finely woven blend of acoustic instruments.
Since their formation in 2014, Tenderlore have been gigging widely across the south of the UK and Ireland, at festivals and folk clubs, and have supported a number of acclaimed artists including Spiro, Lindisfarne, Brother & Bones and Martin Simpson.
All three members contribute songs, rooted in folk but with an engaging pop sensibility, drawing influences from artists like Crosby, Stills and Nash, Laura Marling and Richard Thompson. Released in 2015, their eponymous debut album sees the trio augmenting their sound with drums, bass and strings.
MATT BL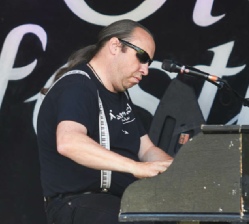 ACK - Definitely one of our festival favourites, so much so you get to see him perform twice!! As well as appearing on the main stage with his blazing piano work he will also be performing a more humorous set on "The Fringe" stage in the bar on Thursday night. An incredibly funny and highly talented musician he never fails to get everyone laughing and for a lot of people he is one of the highlights of the festival.

Matt is from nearby Bournemouth and in the 20 years, and more, spent earning a living in the entertainment world, he has consistently altered his stage persona to meet the requirements of his audience, be they guests at a society wedding, delegates at a business conference or corporate dinner, or bikers attending a rally or even The New Forest Folk Festival. That is why he has been able to perform for Royalty, celebrity, and just about everybody and his aunty. Matt is also a highly acclaimed producer with his own "Hangover Hill" studio.
DEAN FRIEDMAN
- first marked his entry into pop consciousness with the Top 20 chart success of his infectious hit single, Ariel, a quirkily irresistible and uncategorizable pop song about a free spirited, pot-smoking, vegetarian Jewish girl in a peasant blouse who lived, as the lyric goes, "...way on the other side of the Hudson".
Friedman scored again with the release of his follow up album, "Well, Well," Said the Rocking Chair', and the now classic hit single, Lucky Stars. This magical duet, performed with singer, Denise Marsa, zoomed to the top of the UK singles charts, going instantly gold. Lucky Stars paved the way for a slew of Friedman hits, including familiar radio staples such as Lydia, Rocking Chair, McDonald's Girl and Woman of Mine.
Friedman's consummate songwriting and performing, have earned him a loyal international following, devoted to the sophisticated, funny and profound work of a master songsmith.
"Stunning Musicianship" - Hot Press, "Songsmith Extraordinaire!" - Music Week , "An Amazing Talent" - The Sun, "An American Classic" - Tribune, "The Soundtrack of Our Lives" – NY Times, are just of few of the superlatives used to describe Friedman's powerfully unique and original talent.
Friedman's recent run at the Edinburgh Fringe Festival garnered similar critical praise:
"Every song in this Edinburgh show is a classic. You won't see a better show." – London Theatre Guide. "Sophisticated and humorous work from an old master!" Scotland on Sunday. "With his mix of jaunty ditties, sentimental ballads and bashful charm, Friedman is the pop troubadour of choice." The Scotsman. "Dean Friedman is entirely unique and utterly brilliant" – ThreeWeeks.
Though Friedman's next single, McDonald's Girl was officially banned by the BBC for mentioning the tradename of the fast food restaurant, the irrepressible pop song has been successfully covered by a number of acclaimed contemporary bands including the Blenders (Universal) and top canadian band, Barenaked Ladies [WEA]. (BNL member, Steve Page, sings background vocals on Dean's recent double album.) The song has become a viral YouTube video hit, and a staple of high-school and college a capella groups, around the world – including Harvard's Din & Tonics and Yale's Mixed Company - spawning more than 40 different video versions on YouTube; and now, three decades after being banned, the song has just been licensed by the McDonald's corporation to be featured in a national TV/Radio campaign:"McDonald's Girl".
Friedman composes and produces music soundtracks for TV and film, including five seasons of Central TV's hit series BOON and the soundtrack to the underground cult horror film classic I Bought A Vampire Motorcycle [Hobo Films/U.K.]. Other credits include Nickelodeon, NBC, BBC and FUJI TV.
Despite Friedman's apparent absence from the popular music scene, evidence that his name and music have made a lasting impact on pop music can be found repeatedly in popular media: The British band Half Man Half Biscuit released a best selling EP containing the oddly titled, The Bastard Son of Dean Friedman. (Dean emphatically denies this claim.) Friedman extracts his revenge on his CD, Submarine Races with his song, A Baker's Tale, the hitherto untold story of Nigel Blackwell's dubious origins. With his influence evident in the music of contemporary bands like Barenaked Ladies, the Blenders and Ben Folds Five, Friedman states, 'It's nice to see my music has made an impact on a new generation of artists.'
Friedman also produced and presented BBC Radio Scotland's acclaimed radio series, 'Real American Folk', which has featured American Folk icons such as Christine Lavin, David Bromberg, John Prine and Steve Forbert.
Friedman's latest CD, '12 Songs', has been receiving rave reviews from fans and critics, alike. The long awaited, fan-funded, studio album contains 12 brand new original tracks, lyrical soundscapes and story-songs, bursting with life, love and survival in a surreal world. It contains instant classics like, 'Your Pretty Face', 'Malala', 'I Could Fall For You', 'Then You', 'The Ducks of St Stephen's Green ', and more. This stunning recording further confirms Friedman's status as one of the finest songwriters of his generation.
Friedman, 62, makes his home in Peekskill, NY where he lives with his wife, Alison, and Lola, the smallest dog in the world.
LITTLE JOHNNY ENGLAND
- LJE were the headline act in our very first festival - when the band broke up in 2015 New Forest Folk Festival was their last appearance. Had they continued, 2018 would have been Little Johnny England's 20th year and we are delighted that they have reformed for a couple of festivals significant to their history - ours being one of them!
Acknowledged for giving folk-rock a kick up the proverbial for the new millenium, this quintet were popular on the UK folk/roots circuit and toured the US five times with their unique brand of music, with a mission statement ("rocking the English tradition") that put the rock firmly back into folk-rock. Their original songs - from seafaring yarns and the plight of the working man down the ages, to the brutal delights of a Saturday night out in post-industrial northern towns - will appeal to lovers of such as Liege and Lief -era Fairport Convention and The Levellers.
All of the band's members have returned to NFFF on a number of occasions in different line-ups, especially PJ who has not missed a single year (even if in 2017 it meant forming the one-off BWW, with Sally Barker and Brooks Williams).
Gareth Turner (melodeon) from the Northamptonshire village of Moulton, whose strong Morris tradition has produced several box-players of note, built his reputation with Ashley Hutchings' Albion Band and The Phil Beer Band. He regularly tours with Phil, both with the band and as a duo.
Before forming LJE with Gareth, Mat Davies (bass) was a member of Oxfordshire folk-rock band Clarion; he has session credits with such diverse artists as Fairport Convention, Julie Felix and The Drifters. With fiddle virtuosa Katrina Davies and PJ Wright, he performs as part of the acoustic15-String Trio.
PJ (guitar) is one of the most respected electric slide guitarists in the country and currently tours with Fairport's rhythm section and Steve Gibbons as the Dylan Project, TRADarrr, 15-String Trio and, until guitarist Jerry Donahue's recent illness, the re-formed Fotheringay.
Guy Fletcher (fiddle/mandolin) has enjoyed a wide and varied career as a multi-instrumentalist (he's also a superb drummer and guitarist) with Dansaul, the Albion Band, Ashley's Morris On Band (which briefly included PJ!) and with the ceilidh band Tickled Pink. Guy is a founder member of TRADarrr.
Mark Stevens (drums) was the last to join LJE, employing his producer/engineer and drum talents (Annie Lennox, Kid Creole and Marc Almond OBE!) on their excellent swansong CD Tournament of Shadows, going on to form what was initially a studio project, TRADarrr, with co-conspirator PJ Wright.
(see TRADarrr!)