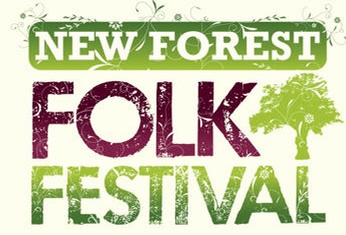 Friday
Saturday
Sunday
Workshops & Singarounds
Wednesday
Thursday
Traders
Childrens Area
Artist information for Friday
BURGESS, NICOL, KEMP -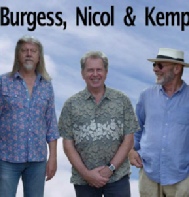 IN A WORLD where music has become hostage to trite trends, TV tyrants and copycat kids, a trio of heroes is setting out to put the class back into classic rock. Burgess, Nicol & Kemp – three men with a wealth of musical history in their armoury – are setting out to slay the monsters of blandness, boredom and banality by uniting to form a force for good in a world gone bad. Now their skills are combining to form Burgess, Nicol & Kemp: the power trio the world has been waiting for – ready and able to prove that there's no substitute for true talent coupled to decades of experience plus a cutting edge, bold approach to putting on a live show! Burgess, Nicol & Kemp is what audiences everywhere have been crying out for. They are the band for which festival and concert promoters have been waiting. They are a thrilling mix of classic sounds, quality music and fresh ideas.
THIS IS US
Paul Burgess is a rock drummer best known as a member of hit-makers 10CC, who has also manned the kit for legendary bands including Jethro Tull, Camel, Magna Carta and The Icicle Works. Ken Nicol is one of the UK's leading guitarists and singer/songwriters who has been a member of The Albion Band and Steeleye Span, as well as having a highly successful solo career. Rick Kemp is the long-serving bass player with folk-rock phenomenon Steeleye Span plus being an acclaimed guitarist, songwriter, singer and record producer. Ken Nicol said: "I played with Rick when we were both in Steeleye Span and some time ago I was talking with him about putting a band together to play our own music. He liked the idea of trying it as a three piece, which meant we had to decide who we wanted on drums. We figured that there was no-one we wanted more than Paul Burgess. "I've worked with Paul in the past, and he's a fantastic drummer. So we talked to Paul, and he was very keen to be involved. "We play a combination of new material and some of our favourites from our own back catalogues, a bold blend of blues, rock and folk. On stage we combine the music with specially produced video presentations, projected onto big screens, so it is very visual as well. It's quite an event; a proper show rather than just a musical gig." "Our set is a real mixture of not just band material with Paul, but also solo spots from Rick and I. If a song has a story to it there will be images that relate to that story, and also pictures and video from the things we've all done individually down the years."
GILMORE & ROBERTS -
Contemporary folk/acoustic duo Gilmore & Roberts combine award-winning songwriting with astounding musicianship and their trademark harmonies to create a powerful wall of sound. Nominated three times at the BBC Radio 2 Folk Awards, Katriona Gilmore (fiddle, mandolin) and Jamie Roberts (guitar) met while studying at Leeds College of Music and released their debut album in 2008.
Since then, the duo have toured Canada and mainland Europe, played some of the UK's biggest acoustic festivals, toured with folk rock legends Fairport Convention and won countless accolades for their genre-spanning work.


2015 saw the release of their fourth album, 'Conflict Tourism', which appeared on several end-of-year Best Album lists and received national airplay on both BBC Radio 2 & BBC 6 music. Produced by Mark Tucker and featuring Matt Downer (Jamie Smith's Mabon), Phil Henry (Phillip Henry & Hannah Martin) and James 'Hutch' Hutchinson (Bonnie Raitt), Conflict Tourism packs a considered punch from start to finish.

In 2016, the duo marked a decade of performing together with their first live album, released ten years to the day since their first EP launch. Limited to one thousand hand-numbered copies and recorded on the duo's 2016 spring tour, 'In Our History - LIVE' is available exclusively at shows and from gilmoreroberts.co.uk/shop.


Katriona Gilmore grew up in Knebworth, Hertfordshire, learned violin at school and started playing local folk clubs with her guitarist father at the age of 14. She joined folk pop sensations Tiny Tin Lady in 2006, and in 2011 was invited to be part of a new lineup of The Albion Band.
Katriona has featured on many acclaimed albums as a session musician and has appeared onstage with such diverse acts as The Troggs, Kim Richey and Matt Berry. Jamie Roberts was brought up in Barnsley, South Yorkshire in a musical family - his sister Kathryn Roberts is a well-respected singer on the UK folk scene. Jamie joined young English traditionalists Kerfuffle in 2007 and more recently formed The Dovetail Trio with Rosie Hood and Matt Quinn. Alongside his regular projects, he has performed with Nancy Kerr's Sweet Visitor Band and Blackbeard's Tea Party amongst others.


'Hot property' - fRoots
'Gilmore & Roberts take English folk and scuff it up with indie rock drama' - Q Magazine
'Enthralling….consistently compelling' - Pure M Magazine
'Head and shoulders above their contemporaries' - Rockin' Magpie
EDWINA HAYES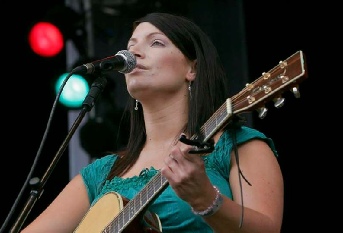 - Edwina's beautifully written songs, charming stage presence and voice of an angel have won her a reputation as a true natural talent of gentle folk-Americana. She has opened numerous shows for Jools Holland and Van Morrison as well as her own gigs playing stages everywhere from Glastonbury Festival to The Royal Albert Hall. Edwina numbers Michael Parkinson and Mike Harding among her fans and the title track of her album Pour Me A Drink was covered by Nanci Griffith who calls her 'the sweetest voice in England'.

Her cover of the Randy Newman song Feels Like Home was featured in the Cameron Diaz film My Sister's Keeper and has since had over six million plays on You Tube.

As well as her own gigs playing stages everywhere from Glastonbury to The Royal Albert Hall, Edwina is often invited to guest on studio albums and support major artists on tour. As well as touring extensively with Jools, Van and Nanci Griffith, Edwina has also toured with artists ranging from Loudon Wainwright and Roger McGuinn to KT Tunstall and Gretchen Peters.

Edwina was born in Dublin and grew up in Preston, Lancashire before moving to the East coast of Yorkshire as a teenager, where she has been based ever since. Dividing her time between the UK and America, Edwina's second home is Nashville where she is much loved as a songwriter and artist.

Having signed with Warner Chappell Publishing and with an eclectic range of influences from Bob Dylan and Carole King to Van Morrison and Gillian Welch, Edwina released her debut album 'Out On My Own' on Warner Brothers to critical acclaim. Produced by Clive Gregson and Nick Drake producer John Wood, the record featured Dr Hook's Dennis Locorriere as a guest vocalist and became a favourite on Michael Parkinson's BBC Radio Show.

Edwina released her second album 'Pour Me A Drink' independently to great success. Much more stripped down and acoustic, Nanci Griffith covered the title track and Edwina's version of Feels Like Home was played in full in the major motion picture 'My Sister's Keeper' starring Cameron Diaz and Alec Baldwin. Edwina followed in the same style with her third release 'Good Things Happen Over Coffee' and touring constantly continues to attract wonderful reviews and fans worldwide.

Edwina toured as support with Fairport Convention on their UK Wintour 2014 and her Abbey Road Live Here Now album will be released later in 2014.


The Guardian - 'Edwina is a haunting honeyed solo songwriter'

Michael Parkinson - 'A very talented young lady'

Nanci Griffith - 'The sweetest voice in England.'

Time Out - 'Sweet-voiced songwriter who has a fine line in gentle, country-tinged material'

Perez Hilton - 'Like a soft blanket'
GREEN DIESEL
- 'Hailing from Faversham in Kent, folk-rock band Green Diesel first emerged in 2009 and take their inspiration from the depths of English folk lore and legend and the classic folk rock sound of their predecessors Fairport Convention and The Albion Band. Blending violin, mandolin, dulcimer and accordion with electric guitars and drums, Green Diesel's sound is born from a love of traditional English music and a desire to bring it to a modern audience.
Performing original compositions, steeped in folklore, alongside inventive reworkings of traditional songs and tunes the band have built up a reputation as a fearsome live act. Their energy and musicianship grabs the audience by the scruff of the neck and leaves them wanting more.
The band's albums, 2012's 'Now Is The Time' and 2014's 'Wayfarers All' have won praise from critics and fans alike for the quality of songwriting and musicianship while the band have appeared at the likes of Beverley Folk Festival, Edinburgh Fringe Festival, Broadstairs Folk Week and the Kelburn Garden Party. They have shared stages with the likes of Gilmore & Roberts, Spiers & Boden and Fotheringay.
The band's third album 'The Hangman's Fee' (released in March 2017 on Talking Elephant Records) features songs inspired by the darker side of folklore. Sinister spirits and bloodstained tales weave their way through the album backed by the signature Green Diesel sound. English folk, red in tooth and claw, performed by a band at the top of their game.'
FRASER NIMMO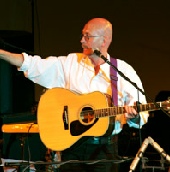 - is a Scottish folk singer and songwriter who combines traditional songs with his own material in an organic melange of Celtic musicality.
His songs cover the whole gamut of human experience and are delivered with flair, wit, compassion and serious digital dexterity on guitar and banjo. Essentially a serious songwriter who has been known to raise more than the occasional eyebrow, glass, roof, chuckle and consciousness, he treats his own material with the same conviction that he brings to music from the Scottish tradition, believing both music forms to be inter-related and complimentary. He travels hither and yon singing songs of love, hate, loss, injustice, fear, outrage, bewilderment and Scotland!
Tours of Germany, Holland, Denmark, Sweden, Finland, The Middle East, U.S.A., Canada, and The Canary Islands plus appearances at many festivals, - including Cambridge, Cromer, Weymouth, Edinburgh et al. and being invited to be Fairport Convention's special guest on one of their mammoth winter tours have consolidated his reputation as one of Scotland's furthest travelled and best loved musical ambassadors.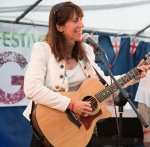 POLLY MORRIS - Always very popular at the NFFF, Polly is a versatile songwriter with a soulful voice.
From her funny, Observational Comedy songs to her Contemporary, acoustic songs, this is music that you will instantly identify with.
Polly has been performing from an early age. She has recorded five albums, "In the Meantime", "Dinner for Two", "Just One Click", " it wasn't me" and her most recent album "Good Driver".
So, what do you do when you are faced with learning a load of stuff about something called "Entropy"…and you have a memory like a sieve? For me the only ever course I could adopt was to set them to music! The result was a candidate who sang to herself, during exams, and developed a love of writing songs.
Writing songs about any topic is a challenge that I love – the more obscure the topic, the better. This means that, over the years, I have written comedy songs about such subjects as The Economic Crises, Retinal Detatchments. .and Vomit!. However, there are other songs that I write These are totally different, and are the ones that seem to come out of an emotion, an event or a throwaway comment – Songs that feel as if they were already there, waiting for you to discover them.
After hearing my comedic songs some kind people have compared me to Victoria Wood, Flanders and Swan and Jake Thackeray. But for my more serious acoustic songs, I have been influenced by Eddi Reader, KT Tunstall, and Musical Theatre…This leads to a quirky mix and leaves me at a loss to explain what I actually do sound like!
My aim is to write songs that people identify with and give them a lift in some small way, so thank you for allowing me to attempt to do just that…and I hope that you enjoy my music.
(P.S. For those of with a passion for Thermodynamics -Entropy is the final state of ordered energy and can be calculated by working out the integral of dQ/T where T is the temperature of a closed system and dQ is the heat energy transferred into that system…..Don't you wish you hadn't asked?)
OXFORD FIDDLE GROUP - perform song

s and tunes from mainly England and Scotland, but also include material from Ireland and the USA. They are keen to promote their own local musical heritage, such as the title track of their latest album 'Beyond the Spires'.

The tunes can be foot-tapping jigs and reels, or catchy hornpipes and marches, or beautiful slow airs and laments. Performances are always tight and fun but played with passion. In 2012 they performed in front of 10,000 people at a concert to mark the arrival of the Olympic flame in to Oxford. Very popular at previous festivals we welcome them back to once again to completely fill our stage in 2017
LINES

& SQUARES POETS have become a popular feature in the NFFF programme. They are a band of poets from across the region brought together by writer and broadcaster Paul Canon Harris. The band reflect a range of spoken word styles and share a love of poetry and the folk scene. Between them they have an impressive record of published work and competitive titles won.

They will be performing on the main stage during changeovers plus there will also be Poetry Workshops at "The Fringe"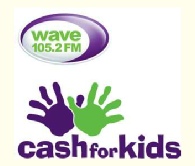 WARD THOMAS
- could tell that change was afoot from the moment they wrote Cartwheels, now the punch-to-the-stomach title track of their sensational second album. Straight away the sisters knew the song was special.
What they didn't know was that their second album 'Cartwheels' would sail to #1 on the UK Album Chart on release making them the first ever UK country act to do so.
Back to the track though. Whenever they performed it live, they felt an intense connection to the crowd. When they sang it at London's O2 Arena, fans hearing it for the first time fell silent.
"There's a pause in the song during which you could have heard a pin drop," says Lizzy, the blonde half of the Hampshire duo who were barely out of their teens when they became country crossover stars. "I watched the faces of fans, women mostly, and knew they felt the vulnerability of the lyrics. It was a magical moment."
Cartwheels tells the sad tale of someone who refuses to accept that a relationship is over, who longs to be noticed, but is only ignored, who "bends so we won't break". It's both heartbreakingly sad and sonically beautiful, a gut-wrenching tear-jerker whose stripped-back sound leaves nowhere to hide.
"All of our lyrics are personal," says co-vocalist Catherine, "but Cartwheels was the most brutally honest we'd ever been. No one wants to admit they're that needy, that they're prepared to do anything to save a relationship they know deep down is broken. Being able to share those emotions with an audience is incredibly powerful."
Cartwheels was written two years ago, at a session in Nashville during the campaign for 2014's 'From Where We Stand', the duo's unexpectedly successful debut album, begun for fun while they were at school and released as an experiment on their own label.
After a debut EP caught the ears of some of country music's biggest stars, among them 20 times Grammy Award winner Vince Gill, From Where We Stand was completed and recorded in Nashville, but remained distinctively British.
Its Number 1 selling follow-up has roots in the country music capital, but only insofar as it was where Ward Thomas clicked with their current co-writers - Brit Jessica Sharman and Rebekah Powell, the Nashville-bred daughter of revered hitmaker Monty Powell. With Cartwheels written, Ward Thomas returned to Britain, where their songs were all over the radio and where they spent much of next 18 months on tour.
The remainder of the new album was written and recorded in London, produced largely by Martin Terefe (KT Tunstall, Jason Mraz, Shawn Mendes), and partly by Jimmy Hogarth (Amy Winehouse, Paolo Nutini, Sia). Cartwheels wasn't just the first track in the bag, it inspired what was to follow.
"It established our new sound," says Lizzy. "Lyrically, it was much more grown-up than anything on our debut. Sonically, it was a move away from country to lots of other influences we grew up with – Fleetwood Mac, The Beatles, KT Tunstall, some Kelly Clarkson, Taylor Swift's Red album. We're still influenced by country, we still adore the Dixie Chicks and Kacey Musgraves, but this isn't just a country album."
In fact, the title track is among several on the album to shrug off country entirely, although the 22 year old twins' beguiling harmonies remain their calling card. Lose Me is a fast-paced pop song that rocks out. The glorious Almost Easy adds strings and electronics to the mix. Bewitching ballad Who I'm Not is set to shimmering orchestration. Boisterous lead single Carry You Home is simply a storming pop song.
"Touring our debut definitely made a difference," says Catherine. "The tighter you become as a band, the more comfortable you are with experimenting. After two UK tours, festivals and playing to 55,000 people in Hyde Park, we had more confidence in who we were as musicians and what we were capable of. That gave us the freedom to explore."
The biggest change, however, was that the teenagers became adults. With their co-writers, they were four young women, sitting in a room, pouring their hearts out. They didn't think in terms of genre, but of stories, emotions and coping mechanisms. They wrote about situations they had either experienced themselves or seen their friends go through. In extraordinary couplets they captured everything from deep friendship to deep despair, from loneliness and heartbreak to the joy of moving on, from feeling like a failure to the pleasure of heading to the hills to de-stress.
The gorgeous Guilty Flowers is the tables-turning tale of someone who was cheated for being cheated on. The fun, faux-bitchy When It's Not Me is a topical take on judging others, told from a small town perspective, but applicable to the wider world. As incisive and affecting as the title track is standout Almost Easy, about dreams ripped to shreds when a relationship ends.
"A friend of Rebecca's had just been through a bad break-up and she described the plans she'd had as like pots on a shelf she wanted to smash," says Lizzy. "It's not just losing someone that hurts, it's losing the person you became when you were with them, your 'best self' as we call it. The future you thought you had and the person you thought you were going to be."
Cartwheels the album, contains a cartwheel of emotions and each song suggested its own sound.
"Almost Easy lent itself to being more contemporary sounding," says Catherine. "We could hear strings on it; the same with Cartwheels. Rather than put strings everywhere, the songs had to call for them, to lift them to another level, not be a distraction. Songs like Carry You Home and Boomerang, the party track, have a bigger, ballsier, punchier sound. Proof, which is the only love song on the album, is sweet and summery."
Ward Thomas haven't just developed as a duo, but as individual singers and musicians too.
"We have different voices that suit different sorts of songs," says Catherine. "We call Lizzy the trumpet and me the French horn. So we have both stripped back songs such as Where The Sky Is and Who I'm Not, which work well with my lower range and softer melodies, and upbeat belters like Boomerang and Lose Me that play to Lizzy's strengths."
Producer Martin Terefe was chosen for his work with KT Tunstall amongst others, although only in the studio did the sisters discover that he had co-written Other Side Of The World, the first song they performed together in public as kids. Terefe helped them find the sound that suited each song, including using a blanket to muffle the piano on Who I'm Not. The sessions were completed with Jimmy Hogarth, who recorded several of the songs straight to tape, with live band and vocals.
Another tour is about to begin and Ward Thomas can't wait to introduce fans to their new songs.
"Our only worry is that blanket," laughs Lizzy. "Heaven knows how we're going to recreate that piano sound on stage, but it'll be fun finding out."