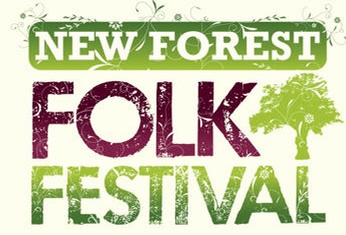 Friday
Saturday
Sunday
Workshops & Singarounds
Wednesday
Thursday
Traders
Childrens Area
Artist information for Saturday
STEELEYE SPAN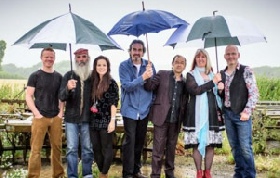 - has been one of the most influential names in British roots music. Pioneers of folk-rock, Steeleye Span changed the face of folk music forever, taking it out of small clubs and into the world of gold discs and international tours. Members have come and gone over the years, but Steeleye has always remained at the forefront of the genre they helped to define, and, 49 years later the band has become an institution in British music.
Steeleye Span formed in 1969, with the vision of playing folk music in a contemporary, electric band format. Taking their name from the song Horkstow Grange, their debut album Hark! The Village Wait is a pioneering album that set out the blueprint for folk-rock.
Our Fesytival in 2014 saw Steeleye Span emerging on another new exciting chapter. With the departure of fiddle player and long standing member Peter Knight we saw the arrival of Jessie May Smart to take his place. Jessie is a young, vibrant talent who trained with Richard Ireland at Trinity College of Music before going onto The University of Nottingham and who's CV includes working on The X Factor and with Katie Melua.

With their fiftieth anniversary fast approaching and a work rate to put many younger artists to shame, the band's eighth album in twelve years, "Dodgy Bastards" saw them return to the folk tales and characters that have always been at the heart of the Steeleye sound with a record that saw the folk rock pioneers continue to drawing stories of murder, religion, incest, skulls, honour killings and tormented spirits to once more create an inspired and dark take on the music of the British Isles.

Alongside Maddie Prior, Liam Genockey, Julian Littman, Jesse May Smart and Andrew"Spud" Sinclair, they have moved to a new seven piece line up, with Roger Carey joining on bass and ex Bellowhead member Benji Kirkpatrick whose father John enjoyed two successful stints in the band and played on many of their classic albums. Benji will be adding bouzouki, acoustic guitar and vocals.


With the future of this famous band in such capable hands, we will see them breathe life into a selection of famous songs, revisit hidden gems from their long career and perform tracks from the new album. When you come to a Steeleye Span show you can expect to hear many of the familiar classics next to gems both old and new, all delivered with a burning passion and unrivalled experience.
JULIE FELIX
- has had an amazing career in folk music.
Here are some of the highlights taken from her website.
1964 - Julie arrives in England after leaving California and hitching through Europe with a duffel bag and the Mexican guitar given to her by her father.
Julie is the first solo folk artist to be signed to a major British record company. She signs with Decca and producer Hugh Mendl enthuses she could be 'the first big breakthrough on the British Folk Scene'. First album 'Julie Felix' and single, 'Someday Soon' are released.
Julie appears on The Eammon Andrews TV show, and is asked back the following week by popular demand.
1965 - Julie is the headline performer at Croydon's Fairfield Hall. She moves into the position of being, as the London Times names her: Britain's First Lady of Folk. Acting as humanitarian ambassador for Christian Aid, Julie visits Lebanon, Jordan and East Africa, returning to London to give her first solo concert. This concert makes Julie the first British-based folk singer to fill the Royal Albert HaIl!
1966 - Julie becomes the resident singer on the amazingly popular 'Frost Report' , and quickly becomes a household name.
The same year she is invited to take part in the celebration of Westminster Abbey's 900th Anniversary, thus becoming the first "popular" singer to perform in this Cathedral.
1967 - Brian Epstein asks Julie to top the bill with Georgie Fame for a week's engagement at London's Saville Theatre. 'FAME & FELIX' is a smash success and is extended for another week. The support artist is a newcomer named Cat Stevens.
1968 - Julie is given her own TV series of 17 shows, Directed by Stanley Dorfmann, this is the first colour series produced by the BBC, and is sold to virtually every country in the world, including Russia! Guests include Spike Milligan, Richard Harris, Leonard Cohen, Dusty Springfield, Donovan, and Jimmy Page.
1969 - Julie is one of the primary artists to appear at the legendary Isle of Wight Festival where Bob Dylan makes his comeback appearance after an absence of 5 years (audience members include George Harrison, Ringo Starr and John Lennon).
1970 - Julie's series is moved from BBC2 to BBC1. She is signed by hit-maker Mickie Most, and with Paul Simon's 'If I Could' (El Condor Pasa) is the first artist to have a hit on the RAK label.
1971 - During the height of the Vietnam War sings to a record-breaking 27,000 people at New Zealand's Western Springs, urging the Kiwis not to engage in conscription.
1972 - Releases her first LP on the RAK label: Clotho's Web. Musicians on this album included John Paul Jones, Danny Thompson and the late Cozy Powell.
Flies to New York to guest on David Frost's US TV Show.
1973 - Second hit on Mickie Most's RAK label with Hot Chocolate's song "Heaven is Here". Guest at Hong Kong's First International Arts Festival.
In 2005 Julie brought her admiration of Bob Dylan's writing to the fore by releasing her double album on Remarkable Records Starry Eyed and Laughing – Songs by Bob Dylan. Supporting musicians included John Paul Jones (playing mandolin) and Danny Thompson (on bass), and the album featured contributions by such luminaries as John Renbourn, Kiki Dee, Carmel Luggeri, and P.J. Wright. Martin Carthy plays on The Lonesome Death of Hattie Carroll. This track was engineered by Dave Swarbrick.
Her star continues to shine bright. In the words of Steve Harley:
"There are those among us who just have to play and sing; to whom there can be no question of quitting; to whom their work is not a job, but a calling. Julie Felix is one such musician."
REG MEU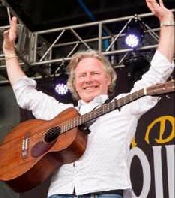 ROSS - "Reg Meuross sounds like a forgotten, American 60s classic with echoes of Dylan, Tom Paxton & Leonard Cohen" Robin Denselow, The Guardian
We are happy to welcome one of our favourites, Reg Meuross, back to NFFF. Reg Meuross is a true modern troubadour, representing contemporary English folk writing at its best. "There's something special about the way he writes and delivers a song" Townes Van Zandt. In the mid-1980s Reg Meuross formed the Panic Brothers with Richard Morton, mixing Americana with humour and slick harmonies. Then came the Flamingos, Hank Wangford, and now 11 highly acclaimed solo albums have established his songs as 'the hinges upon which swing the doors of perceptive English folk' (Folkwords).
Reg's songs comment bravely on life as he sees it, bringing wide ranging stories from the ghosts of WW1 soldiers to the ravages of dementia, and some of the most beautifully disarming songs and lyrics ever written. Reg has that rare gift of being able to touch people, through his songs and performance, on a really human level. His words and music paint pictures that remain with the listener long after the song has been sung.
"Meuross, quite simply, is one of the best" 
Malcolm Carter, Pennyblack Music
"Powerful and moving songwriting" Martin Chilton, The Telegraph
"A mighty songwriter and an equally fine singer" Martin Carthy

Reg will once again be doing his very popular songwriting workshop in the "Fringe".
COCO AND THE BUTTERFIELDS
- are a Fip Fok band, a genre combining Folk, Pop and Hip Hop, from Canterbury, Kent, which formed in 2011.
The band consists of Canterbury buskers Tomas Twyman (lead vocals, acoustic guitar), Dulcima Showan (vocals, violin), Jamie Smith (beatbox), Micah Hyson (double bass) and "Handsome" Rob Wicks (banjo).
In 2012, CoCo and the Butterfields were crowned the overall winners of UK Live and Unsigned from amongst 40,000 competitors.

Since their inception in 2012, CoCo and the Butterfields have spent much of their time on the road, touring the UK and Europe, selling out headline shows and featuring at many major festivals. Hitting upon a winning formula with their crowd pleasing live act, the band showcased music from their first four EPs, selling thousands of copies to audiences around the world.
After signing a publishing deal with peermusic in 2016, CoCo took a short break from performing and returned to their home studio in Canterbury, to work on a new EP. This break has resulted in a brand new bank of work, showing a rapid development into a more mature, radio ready act.
Having successfully road tested the new material (including a recent triumph at Bestival 2017) plans are now under way for the release of their brand new record, starting with their biggest London headline show to date: O2 Academy Islington.
HUNTER MUSKETT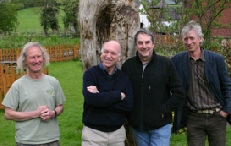 - Legendary folk band of the 1970s that saw the emergence of Doug Morter who went on to feature in The Maddy Prior Band, Magna Carta and the Lark Rise to Candleford project as well as The Albion Band.

Regarded as a fine band of UK folk singer-songwriters, presenting a rich blend of pseudo ballads. Their second album was produced by Keith Relf of the Yardbirds.

The group was formed at Avery Hill College in South London when Terry Hiscock and Chris George were joined by fellow student Doug Morter. The band's name was taken from an anecdote about an eccentric Cornishman.
Hunter Muskett began by playing in London folk-clubs and colleges mixing original songs with acoustic folk and blues. Unusually for the time they used a pa system and some electric instruments in folk clubs.
WINTER WILSON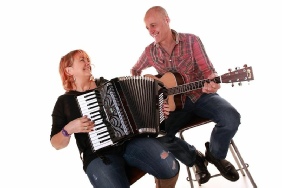 - Showcasing their latest album "Far Off on the Horizon", follow up to the critically-acclaimed "Ashes & Dust", Winter Wilson come to the New forest Folk Festival off the back of a triumphant UK tour with the legendary Fairport Convention.
Now in their 6th year as full-time musicians, Kip Winter and Dave Wilson bring a sense of intimacy to every venue, blending superb, often hard-hitting original songs, stunning harmonies and musicianship with sometimes hilarious tales of life on the road. "This isn't an act; it's a domestic."
Kip (vocals, accordion, guitar, flute) "simply has a voice to die for" (John Roffey, Maverick Magazine), whilst Dave (vocals, guitar and banjo) is now rightly recognized as being amongst the top tier of British songwriters, with his songs covered by some of folk's "greats".


Together, their voices are sublime. "In 30 years of listening to folk music, I have never heard two voices blend so perfectly" (David Aird, Chairman, Glenfarg Folk Club)


But it's in live performance where these two really excel. Every show is different, but entertainment is key. That's why so many clubs and festivals book them time and again.
You will laugh; you may cry. You will certainly want to see them again!
SOUTHAMPTON

UKULELE JAM - Since forming in 2008, Southampton Ukulele Jam have been thrilling, confusing and occasionally frightening crowds along the South Coast - playing songs by everyone from The Stones and The Ramones to Jessie J and Lady Gaga in their own inimitable, ramshackle style
There are upwards of fifty players who get together regularly to play everything from folk to punk - literally. Tunes are suggested by the group and if they can work out the chords they will usually give it a go so expect to see our stage packed to the rafters and blasting out some well known tunes.

In previous years they put on a very popular workshop at "The Fringe" by the bar where everyone was invited to get up and have a go. Even those that had never played before learnt a chord or two. They will once again do the same in 2017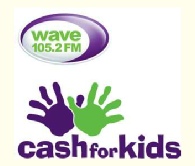 TRADarrr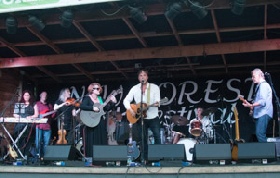 - Little Johnny England occasionally departed from its core material of original songs, initially written by the talented Pete Scrowther and eventually from within the band; they would rarely take on a traditional ballad whole, preferring to use the tune as a vehicle for new lyrics addressing contempory issues. However, had they not thrown in the towel after Tournament of Shadows failed to top the charts, the next LJE record was going to be titled Trad arr.(arranged) - the author credit used for a traditional song.
So Mark and PJ, using the name TRADarrr (originally TradArrgh!) to record an album of traditional cautionary tales, asked musicians from various bands to guest on their studio project. On completion, the core of the ensemble decided to try playing it live; some 2015 festival appearances were booked and TRADarrr - the band - was born.
The next CD, the painstakingly produced Further Tales of Love, Death and Treachery, took more than a year to complete (listen to its lush soundscapes to hear why!).
Now seven of them are back, live on a festival stage, to bring you the pick of those two albums:
Bassist Brendan O'Neill is the newest member, having joined earlier this year.
Singers Gregg Cave (a gatherer of cool guitars) and Marion Fleetwood (a one-woman string quartet and bonne viveuse) are a duo in their own right, each possessing a fine folk-rock pedigree.
Gemma Shirley is a classically-trained violinist and opera singer who stands stage right, at the keyboards.
Standing next to Gemma is ex-LJE fiddle-player and ageing pinup Guy Fletcher,
PJ Wright stands with guitars stage left and Mark Stevens sits at the back behind the drum kit, occasionally joining the front line to play the flügelhorn: ever since their first live show, Josh Law is at the sound desk mixing around thirty inputs (various instrument pickups and microphones, and seven vocal mics - everyone sings!).
Enjoy!