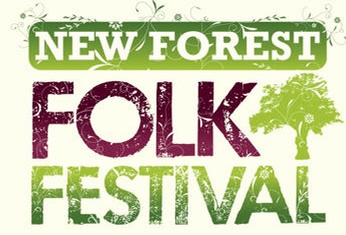 Friday
Saturday
Sunday
Workshops & Singarounds
Wednesday
Thursday
Traders
Childrens Area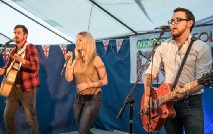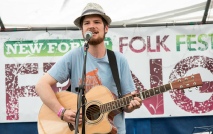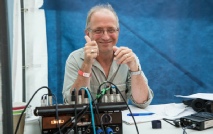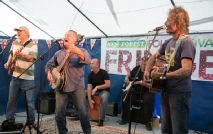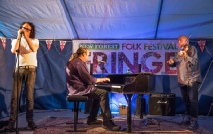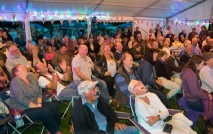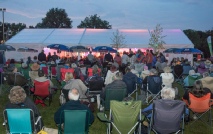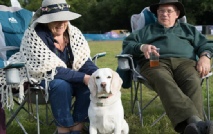 Thursday (and every day) starts at 10am with a singaround hosted by our good friend Dan Walton who has been a a regular Fringe entertainer and also well known for the NFFF Cropedy Blog.

Then we have a full day and evening of entertainment finishing with another singaround.
Here are profiles on all the artists below.

LILY MEUROSS -
Reg Meuross has been a favourite at our festival since the beginning and now we are delighted that his daughter Lily will be joining us to carry on the family tradition
Lily: "I've been playing guitar for almost three years, but writing songs for as long as I remember, and singing the same, I've been singing and writing songs since I was a very little girl, all my family are musicians, so I think it was in my blood!"
IAN W BROWN
- not the lead singer of The Stone Roses one, the guitarist and songwriter from The New Forest one, was nominated for an Ivor Novello award for co-writing Sandi Thom's number 1 single, 'I Wish I Was A Punk Rocker' and the album from which it was taken. Under the pseudonym Tom Gilbert, he also co-wrote the lead song in the long running West End musical 'Dreamboats and Petticoats' and has written songs for many artists including Fisherman's Friends, Show Of Hands, Jason Donovan, D Side, Pixie Lott, Graham Gouldman, Henry Priestman and even Meryl Streep.
Performing and writing songs is Ian's hobby as he is too old for football and has no aptitude for golf. He has never released any material under his own name, but that is about to change in his fiftieth year when he releases his debut single , 'Me Too'. ( More info on his day job can be found at www.mightyvillage.com)
Ian's set includes some of his songs that have graced the charts and O so many more that haven't: Such as 'She Can't Recycle Michael & His Folding Bicycle', 'There's A Light At The End Of the Tunnel (& It's The Front Of The Train)' and 'Grey Is The New Blonde' and 'The Five Foot Two Inch Giant'. These little known musical gems are interspersed with tall tales from the music business, life, love, pig farming and the universe that is visible from his shed in the New Forest.
CHASING DEER -
Chasing Deer are an up and coming rock band from the Midlands, working and living together in London. Their original music features regularly on BBC Radio in the UK as well as a number of commercial stations.
Following the release of their first EP 'Rewriting History' in 2015 to fantastic reviews, they toured the UK to great acclaim:
"Any description of the bands style should definitely include the word 'slick'... Step Into The Light is just a brilliant little tune. It's as simple as that."
themusicaloutcast.com
MARYJANE FOLK -
MARY JANE play a highly original blend of acoustic & electric psychedelic folk-rock. The group consists of Jo Quinn (vocals, flute, fiddle), Gillie Hotston (fiddle, mandolin, vocals), Paul Alan Taylor (guitar, bouzouki), Jon Hawkes (bass) & Steve Barker (drums).

Their music is a very individualistic & varied combination of self-penned & traditional material, with strong Celtic, Eastern & Medieval influences.

Mary Jane's energetic stage shows have become an increasingly popular live attraction at various festivals throughout the southern UK during recent years
TENDERLORE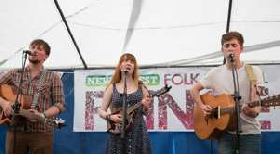 - Tenderlore are Hayley McDonnell, Olly Lewis and Rob Kitney; three individual musical voices blending together as one. The trio met whilst at university in Southampton as fellow singer-songwriters who, drawn into each other's music, began to collaborate and make their mark on the local music scene. Inspired by the likes of Crosby, Stills and Nash, Fleet Foxes and Joni Mitchell, Tenderlore's sound is rooted in folk but with a modern, engaging pop sensibility.
MATT BLACK -
Matt Black is back on his piano, imparting his observations on life, and the lessons he's learnt to ignore!
This sort of event is when Matt's at his best - intimate and raucous - See your doctor before attendance.

This is music and comedy at it's best and Matt has become a real favourite at our festival.
If you want a seat inside then make sure you arrive early!!!
CUCKOO PINT
- Cuckoo Pint are local musicians playing traditional and contemporary folk music. Their name derives from the Cuckoo Inn at Hamptworth where they met playing in sessions.

Their repertoire includes a wide range of songs and tunes, often about soldiers, sailors and the sea but there are a lot more besides. The current line-up, Alastair, David, Lizzie and Phil, share the vocals and play guitar, fiddle, mandolin, mandola, accordion, whistles and bass.
PLAITFORD
COMMON are a group of local musicians named after the large common area across the main road that forms the northern most part of the New Forest. Expect tunes that you know played in their very own style and after doing such a great job on the main stage last year we just had to have them back. Steve Paige heads up the band and spends a lot of time in the run up to the festival helping us with setting up.
Steve and the band will also running the Fringe stage so a big thankyou to them all.
SHIRLEY KNOT -
are John Connell, Rosie Marshall, Robbie Wilson, and John Miller four people who love to sing. Over the years the group has changed a great deal, both in number and name. Their material has also altered with the ravages of time. They started out in life as the Priory Hard Shanty Crew with nearly a dozen singers. Last year they were Priory Hard because they practised in Priory road Southampton but having moved to Shirley, the new name of Shirley Knot would seem appropriate.

They have sung on tall ships, in shopping centres as well as in pubs and clubs. They sing lots of traditional chorus songs and shanties.
They've spent a few nights on the Lord Nelson tall ship at the International Festival of the Sea, singing all around the dockyard, enjoying the atmosphere of the festival and singing live on Radio Solent from the deck of the Nelson. They certainly do enjoy singing – anywhere and anytime!
DAMIAN CLARKE -
Damian Clarke will be introducing two rare instruments to us at the New Forest Folk Festival. He has just released his third solo CD and he continues to search for ways of increasing the public's awareness of the wonderful Hammer Dulcimer and Hurdy Gurdy.


The album entitled: "Something to say" features autographical self-compositions by Damian, reflecting his career as a touring musician. Mostly featuring the Dulcimer, many of the songs have catchy choruses to sing along to, great stories or poetic musings on travelling, returning home and the adventures in between.
Damian plays concerts featuring two rarely played instruments; the beautiful, romantic Hammer Dulcimer and the stirring Hurdy Gurdy. He often includes some songs on the guitar too. He plays many folk songs from the Celtic tradition, as well as from Brittany, and Northern Europe. He performs wherever he can. A true modern Minstrel!


"Something to say" CD reviews include: "These songs are well served by their delivery - keenly observant and sparkling and refreshing in demeanour, with a parallel delicacy of tone and expression yet capable of a lyrical punch where the nature of the recollection demands." FATEA
There is something supremely listenable about 'Something To Say' Damian's third solo album ... tenderly contemplative personal narratives, finely cast observations, softly sensitive voice.. FOLKWORDS
Previous CD reviews include: "Sparkling programme of refreshing' wandering-minstrel' takes on traditional songs (English, Breton, Plat Deutsch - all sung in the original language), interspersed with tunes... Damian's come up with an inspiring and enjoyable collection." FROOTS. "A charming musical miracle-bag " FOLKER (Germany) . "hard to choose an outstanding track because they're all good, Damian's own compositions stand out." NONSUCH CLUB MAGAZINE **** R2 MAGAZINE
Damian is also known for his performances with the rock-folk band, PRESSGANG which he founded in 1986. Since then he has toured in over 12 countries, made 8 albums, and played everywhere from television to theatres and international folk festivals to street fairs.
WILDWOOD JACK
- Wildwood Jack are a unique acoustic guitar and ukulele duo from Kent. Their melodic songs blend the acoustic guitar and ukulele with outstanding fingerstyle playing drawing influences from folk, americana and world music. They embrace the troubadour lifestyle and spend large parts of the year touring across the UK, Europe and New Zealand.
'Wildwood Jack' is their name for the independent spirit of music that knows no boundaries. Their wide repertoire draws from an eclectic songbook as well as instrumentals and heart warming original songs.

Wildwood Jack are Adam Piggott and Jayne Freeman, husband and wife duo brought together by a love of music when they first met in 1991 at Hull University and they've been travelling on musical journeys ever since. Settling in Hastings in East Sussex in 2002 they played in various musical projects including samba bands, ukulele sextets and a cabaret trio all the while gathering and writing songs. Music took them further and further afield and as they began to experience travels and adventures they longed to hit the road fulltime. In June 2013 they took the big step and sold up to begin an inspirational journey that's taken them all over Europe, the UK and New Zealand. Playing at acoustic clubs, folk clubs, cafes, bars, house concerts, festivals and even busking they've brought people from all over the world to their timeless style of acoustic folk music.

They released their first album 'Anytime Now' in 2011 under their own names. R2 Magazine described it as "Quality songwriting, engaging, uplifting and filled with memorable melodies"as well as "a perfect summer soundtrack".
Their second album "The Firefly and the Half Diamond" followed a year later, FATEA Showcase said "This is an album of great songs", SHIRE FOLK said "Melodic and sophisticated"NETRYTHMS described it as "genuinely uplifting" with "intensely adept acoustic guitar stylings".

Jayne and Adam will also be doing a workshop with no doubt plenty of interesting stories to tell along the way.